Students have asked us in the past if Viper/ScanMyEssay does anything with the essays that are scanned through its systems.
At ScanMyEssay.com, we're very transparent about how we run Viper. When you scan an essay, we'll take your essay and add it to our database so that future scans that you or other people make can be compared to it. Nobody has access to this database and if part of your essay matches another essay, other people cannot see your work - they only see a percentage match. Aside from that, 3 months after your scan, we will automatically add it to our student database and it will be published on one of our study sites to allow other students to use it as an example of how to write a good essay. Most students don't mind helping other students by offering their essay/work as an example - they're finished with the essay and it's of no value to them. Our free scanner is used by as many as 4,500 students every day with confidence.
Viper Free Plagiarism Checker
In exchange for access to our scanner, we ask that 3 months after your scan, you allow us to upload your essay to our database so that it appears on one of our study sites, so that other students may use it to help them write their own essays. As you will already have submitted your work to your university, it's no longer of use to you - but you'll be really helping other students by allowing them to learn from your work as an example.
You'll still get:
Unlimited plagiarism scans - resubmit your essay as many times as you like
Unlimited words - scan short or long documents
Scan against millions of resources that other scanners don't have access to
Instant comprehensive report
100% confidential - nobody will ever know that you use Viper.
Will I be accused of plagiarism if my essay is found by my University?
No! Your essay doesn't get used for at least a full 3 months, which is a long time after your submission date.
Can TurnitinTM access the Viper Database?
The answer is simply no. Nobody has access to our database bar our engineers. We won't ever allow it either.
Can I see examples of how you use my essay?
Sure! Here are some examples of how we use your essay. Your work really helps other students to do better in their own studies. Don't forget, we wait at least three months before sharing your essay with other students.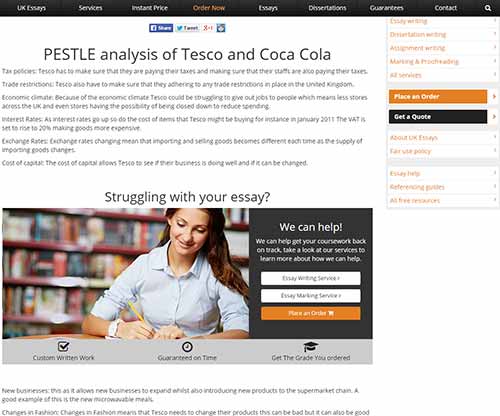 This is a screenshot of UKEssays. The site allows students to search through thousands of essays, dissertations and coursework for examples of how to write a good essay. Your work will be added to this resource after at least 3 months have passed. Only the first 300 words appear in Google's search results - your full essay is not indexed by Google and the other search engines.
When we assess your essay as being particularly good, we sometimes allow students to access it from a range of other websites under strict guidelines. This is always at least 3 months after you scan your work. Examples include LawTeacher.net and Uniassignment.com. These websites are all owned by a single company, All Answers, a reputable, registered UK company that offers student support services. We maintain control over the publication of your work on those sites and can elect for it to be removed if necessary. All Answers do not have permission from us to charge a fee for viewing your work - further, they do not have permission to do anything else with your essay (e.g. they may not publish it anywhere else or sell it).
Do you have copyright to my work?
Absolutely not! Your work is still your own. You effectively give us a licence to use it in a particular way, which we have carefully outlined above. We don't have the right to do anything else with your work and you will always own the copyright. Be very wary of other scanners and websites such as Coursework.info - when you upload work to them you grant them an irrevocable licence to do whatever they want with that work. Read their terms! This is a very wide licence which allows them to publish or resell your writing wherever they like, in any form they like, even without giving any credit to you. We never remove author information from essays, unless you want us to as we don't 'edit' the essays you scan.
There are other free scanners that don't do this.
Be cautious when using other scanners that claim to be "entirely free". Someone has to pay for the development costs and that is often funded by taking the student's essay and doing something with it. This might happen as soon as you scan your work, meaning that if your University scans your work later, you'll be flagged for plagiarism.