About Viper
Viper is an online plagiarism checking app that works through any standard web browser. Originally built as software for Windows, Viper moved to an online app in 2017 and was vastly improved and simplified. As one of the first online plagiarism checkers, Viper has become the application of choice for students and institutions looking for a cost-effective solution to make sure their submitted work is plagiarism-free.
Viper is no longer available as a downloadable software application!
If you have an older version of Viper installed, it will no longer function. We recommend that you uninstall any older versions of Viper as these are no longer supported. Please do not install any "free download" versions of Viper you may find on freeware and shareware sites - none of these applications are supported by Viper and may contain malicious scripts.
Viper Online
In early 2017, Viper transformed into an all new plagiarism checking app with new and improved plagiarism matching capabilities and greatly improved scanning speed and accuracy. Although Viper was primarily developed for university students it is equally at home checking for plagiarism in SEO content, blogs, speeches or corporate documentation.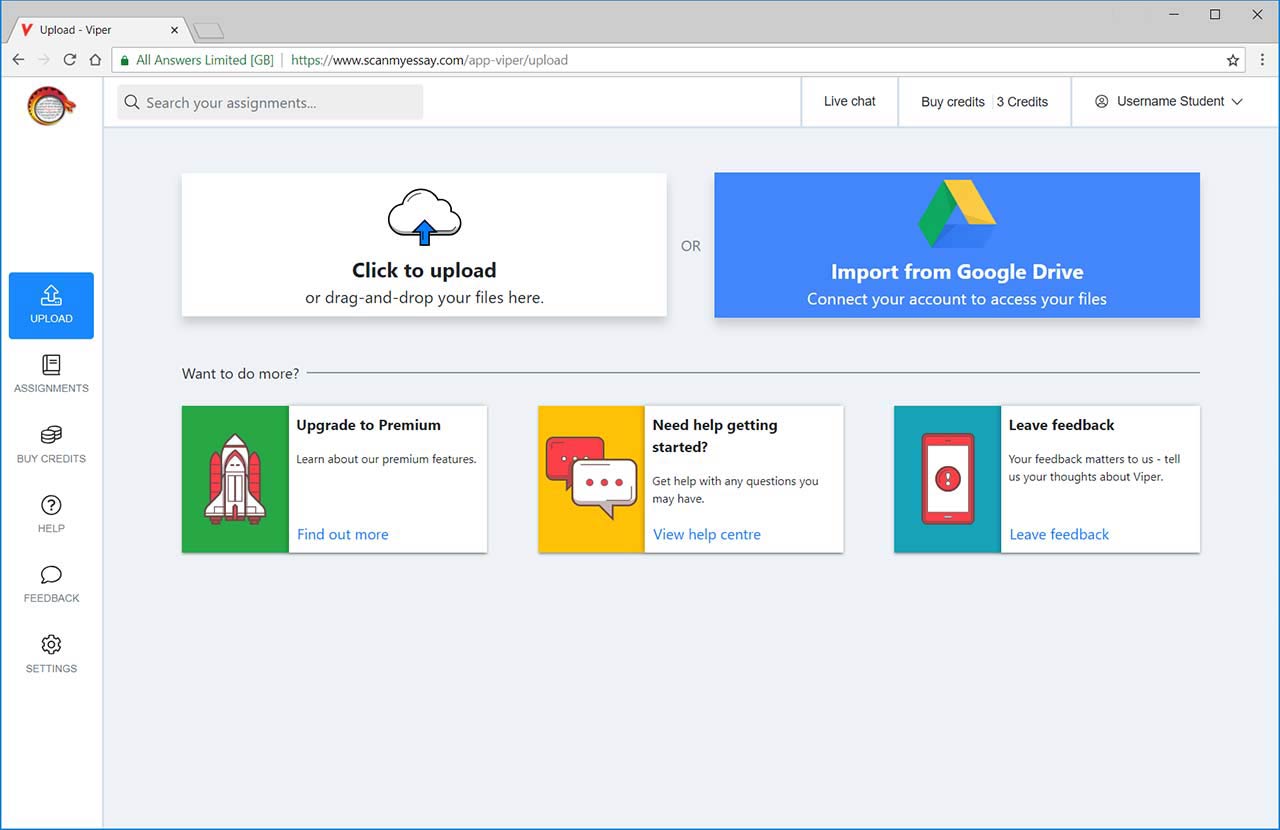 Being an online app, Viper is available to anyone with an internet connection on any platform. You can access Viper with any standard web browser such as Google Chrome, Microsoft Edge, Firefox or Safari. Once you log into the application you will see options for free and paid scans. Users of the older Windows software may be familiar with the fact that free scans are published online after a period of time to help other students with their studies. With a paid scan, we guarantee not to publish your work.
Some of the benefits of the new online plagiarism checking app are:
Cross-platform - you can now use Viper on any PC, Mac or Mobile device
Improved speed - plagiarism checks now take an average of 10 seconds to complete
Improved accuracy - Viper now checks for plagiarism against more sources than ever
Google Drive integration - You can now upload your documents for checking directly from Google Drive
Online support - Full support is now available via LiveChat and Email (Paid scans only)
Support for multiple languages - Document checking for most Western European languages is supported natively in Viper, including English, Spanish, French and German
Log in now to start checking your documents for plagiarism:
Credits
Viper uses a flexible "credit" based system where each document check costs a number of credits. Credit bundles reduce the overall cost of checking your documents. The more credits you purchase, the cheaper each credit becomes. Credit bundles are available from three to 50 credits. If you think you will need more than 50 credits, please contact our online support staff for a bespoke quotation.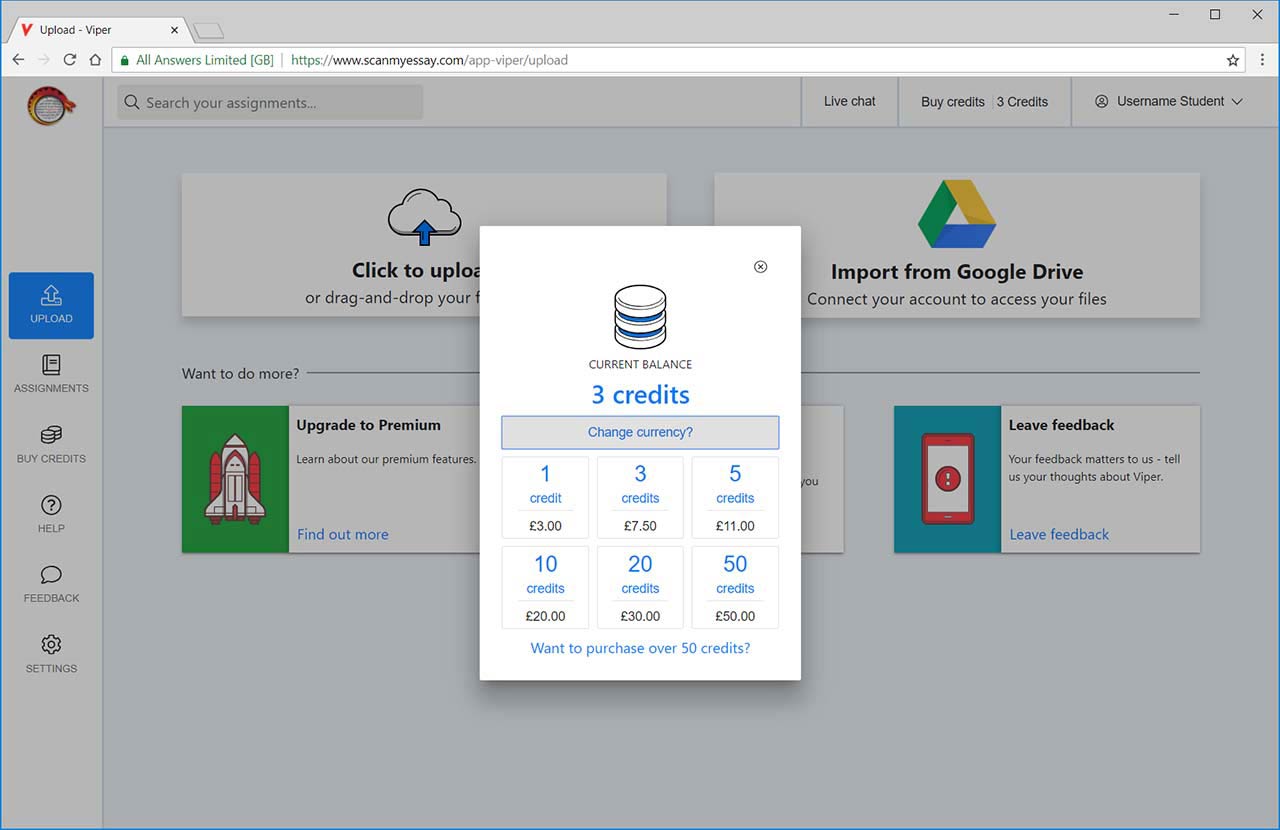 All payments are processed via Stripe or PayPal and your confidential payment information is only ever held in their secure storage - no payment details are stored by our site or application.
Payments are now accepted in multiple currencies to give you the best possible price in your country and help you avoid currency conversion charges. Currencies supported are:
£GBP - Great British Pound
$USD - US Dollar
$CAD - Canadian Dollar
$AUD - Australian Dollar
€EUR - Euros
Spanish Language Support
If you are looking for a Spanish language plagiarism checker, then our sister site at Plag.co offers a fully translated version of Viper with improved scanning accuracy for Spanish language documents.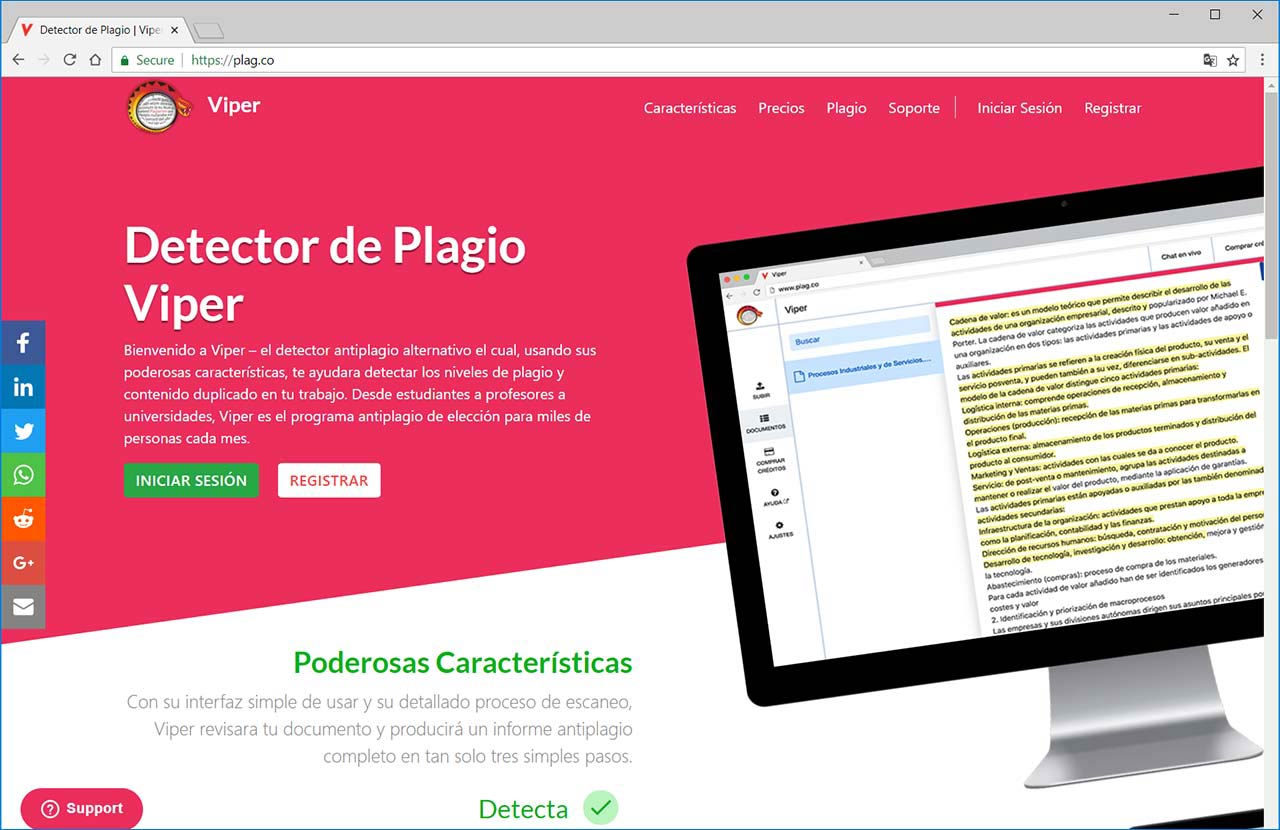 Plag.co supports the scanning of all Spanish language localisations from countries including Spain, Columbia, Mexico, Argentina, Venezuela and more. Customer support is also offered for Spanish speaking customers by LiveChat or Email from our native Spanish language speakers.
Viper has long been the plagiarism scanning application of choice in Latin American countries so this new fully supported version of the application for Spanish-speaking countries brings greater levels of usability and customer support, all in one easy-to-use and cost-effective package.