Plagiarism Test
Are you considering whether or not to carry out a regular plagiarism test on your work? If so, you are very wise because the need for this is on the increase.
Why would I need to carry out a plagiarism test?
You need to carry out a plagiarism test because your work needs to be guaranteed to be free from plagiarism of any kind.
You may think that there is no possibility at all of you ever having plagiarised but you would be surprised just how easy it is to plagiarise by mistake, even if you would never even consider plagiarising deliberately.
Just to remind you, plagiarism is when you deliberately or accidentally copy someone else's work and present it as your own. This is a very serious offence, morally wrong, self-defeating and against every rule of academic life, and if published, punishable by law. Schools, colleges and universities are increasingly aware of this as a problem and are carrying out their own plagiarism tests to ensure that academic standards remain high.
Therefore, even if you have not thought about carrying out a plagiarism test in the past, you should definitely consider it now.
What is a plagiarism test and how will it help me?
A plagiarism test is an online scan that provides you with a report, highlighting any possible areas of your work which might be considered as plagiarism. The most widely used of these is Viper.
The report that a plagiarism test produces is colour coded making it very easy for you to identify where possible problems might be occurring, and rectify them before submitting your work. In other words, a plagiarism test points out the errors that your school, college or university will pick up on but allows you time to correct them first!
Briefly, a plagiarism test will:
highlight by colour coding the percentage of work found in sources in the plagiarism test and if it is comprehensive,
highlight by colour coding the percentage of the quotes found in work in the plagiarism test and see if they are thoroughly apt,
highlight by colour coding the matches in quotes in the plagiarism test and check whether you have stuck strictly to the referencing style required by your school, college or university,
highlight by colour coding the percentage of work that the plagiarism test has identified as being open to accusations of plagiarism,
highlight by colour coding where you need to alter or delete areas of your work in the plagiarism test that might possibly be considered to be plagiarised.
In addition to all this, another benefit of a plagiarism test such as that available from software like Viper, is that it highlights clearly in red the references used in your work.
This feature of a plagiarism test gives you the added bonus of ensuring that you have referenced correctly and seeing how appropriate that referencing is as evidentiary support. Therefore, when you carry out a plagiarism test, you gain the chance to take another look at referencing in all aspects in your work.
A plagiarism test helps you with your referencing by highlighting your references in red so you can easily see:
the strength and appropriateness of their placing and frequency,
the strength, accuracy and appropriateness of your referencing technique,
the strength and appropriateness of your referencing ensuring it does not seem to be your work but is correctly attributed,
the strength and appropriateness of the analysis in your references.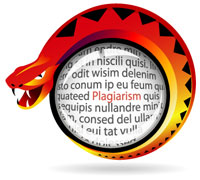 The last of these is particularly important as it is often overlooked by students, and good analysis of quotes can help you improve your grade.

By highlighting your referencing, a plagiarism test makes it much easier for you to improve your referencing skills and good analysis should be chief amongst these, as it;s a skill which you need to acquire.
In fact, a plagiarism test improves your writing style in many ways, because it shows you how frequently you are drawing on certain resources. This means that you can see whether you are using certain sources too frequently and where variety might help you achieve a better grade. Therefore, a plagiarism test highlights possible areas in your writing, which can be improved in more ways than just overcoming plagiarism.
So a plagiarism test is a good idea?
Definitely! There is no question that carrying out a plagiarism test such as that offered by Viper, will protect you from any or all accusations of plagiarism in your work, as well as showing you where your work can be improved in other areas.
The fact that the Viper plagiarism test is free and readily available to both students and teachers alike, is an added incentive to use it frequently. It's no exaggeration to say that a plagiarism test will help you to improve your work overall, and you should benefit greatly from the information provided by the report.
In today's stressful academic world, the serious and ambitious students need all the help that they can get and the plagiarism test is an important part of this. In fact, with all the benefits that a plagiarism test can offer, you would be foolish not to take the opportunity to ensure that not only is your work plagiarism free, but that the quality is improved by everything that the plagiarism report points out.
Using a powerful and effective plagiarism test such as that offered by Viper regularly, will ensure that you maintain the highest possible standards and thus achieve the highest possible grades. Plus, you will have the reassurance of knowing that the accusation of plagiarism can never be levelled against you. So why not take advantage of our free Viper service and get your free plagiarism test report today. You simply cannot afford not to do so!

Viper vs. WriteCheck (Turnitin)
How do we compare?
We have told you what makes Viper great but how do we compare to Turnitin's WriteCheck? Have a look at our easy chart...
Editing Services
Don't underestimate how many marks can be lost through poor presentation!
To achieve a 1st, your essays must demonstrate clarity of expression, be free from spelling and grammatical errors, use accurate and often sophisticated technical vocabulary, and use consistent citation with a well-presented bibliography.
To help you achieve the perfect grade, use Viper's essay proofreading, essay marking and essay editing services...
If you want to know more about our editing services then click here.